Valentine's Day is Tuesday. If I were the type to really care about Valentine's Day, I would make a bigger deal about this post, but my husband is currently in the kitchen washing the disgusting dishes in our sink, so I feel like I'm a winner no matter what I post, or what day it is.
If you love Valentine's Day and truly enjoy the theatrics of it all, good for you! Sincerely, I am happy that people love it. However, I've never been big on Valentine's Day. Not because I don't love my husband, but because I think it creates a lot of unnecessary pressure on a day that's just a regular day. I think my husband and I show each other we love each other pretty well throughout the year, but on Valentine's Day, it seems the pressure gets the best of us and it usually ends in frustration. Last year, we spent WAY too much money on a Prix-Fixe dinner at a local restaurant that ended up being disappointing. Rubbery lobster. Boring desserts. Ninety dollars. Yes. Ninety. We laughed about it, but I could tell that the large bill for such a disappointing meal was bothering him. The year before that, I was in the process of switching my birth control, and I was an actual lunatic. I cried and drank bourbon from the bottle like a heathen. Fun times.
Most of our Valentine's Days have been fine over the years. We've been together since 2005, so that's a lot of Valentine's Days. One year when we were still in college, we went to Chili Willies, still our favorite place in town that no longer exists. (RIP) But I can't remember one that has been life-changing or super impressive. Because I think we just love each other and we don't love each other any extra just because there are pink candies for sale in the aisles at Target.
Kyle and I are going to Ireland next month, so that was our Christmas/New Years/Valentines Day gift to each other. He makes me laugh every day. He takes out the trash that smells like death. He tells me when I have food stuck in my teeth. He loves the history of the United States Postal Service, knows more movie trivia than anyone I know, and most of all, he's a good husband. I don't necessarily need a special day for him to "prove" that to me. And I'd like to consider myself an okay wife, so I don't think he feels like I need to prove myself either. (Actually we just had a conversation about this, and Kyle's answer was, "No you don't need to prove yourself. I mean, I wouldn't mind some chocolate, but I also wouldn't mind some chocolate on like, March 14th." So there you have it.) We will still make each other a handmade card like we always do, and we will probably grab dinner and drinks somewhere that we already love, like Backyard. We will eat pizza and drink beer. I will wear something that makes me feel sexy, but I will probably have leggings on before midnight, and we will probably watch a movie and have some bourbon. We will talk about our upcoming Ireland adventure and plan what to pack and what we want to see. That's what makes us happy and is a lot less stressful for us.
If you need something chill and fun to do this year, maybe check out a fun post I did last year, "Amortentia" where I make love potion cocktails for Kyle and me. Try to come up with your own love potion cocktails! It's fun and even if the experiment fails, you'll have a funny memory. Or hang out with your friends and make cocktails anyway. Leslie Knope would approve. After all, Galentine's Day is the best day of the year.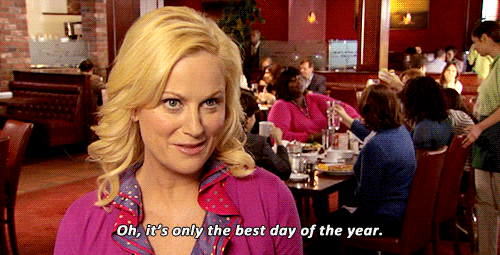 Bottom line, enjoy the day. Enjoy every day. Love your person. Love yourself.
—
Feature photo by Chris Osborne.